Less than a year into his new role at Moriondo Farms, herdsman Nathan Arnold is making some big changes to the operation's nutrition program with distillers grain cubes.
The Mt. Vernon, Mo. ranch is a "multi-faceted place" according to Arnold, running registered Angus and Sim-Angus cattle as well as a commercial cowherd. All calves are retained through the yearling phase, and the ranch also purchases customer cattle for their growing operation. With so many irons in the fire, Arnold's initiatives were to simplify and cut expenses.
"Because we are pretty diversified, the DDG cubes have given us a little bit more of a tool in our toolbox and the ability to watch our costs," Arnold said. "We're saving 50 cents a head a day on yearlings, in addition to feeding 3 times as many cattle with one box of feed. That means fewer trips to the barn to fill up, so we're saving on fuel and vehicle maintenance, too."
In the past, Arnold said all the weaned calves, yearlings and heifers were being fed a total mixed ration or a pellet of some kind even on grass.
"Before, we had to do it with a TMR if we wanted to feed DDG and now we can feed it in a cube or pellet and still get that energy. We don't have to run tractors or mixers down the road anymore. I think it just gives us a lot more versatility. And the other thing I'm seeing is that our forage is going farther since we started with this."
When he decided to make the switch to DDG cubes, Arnold started out feeding them to his weaned calves. After seeing impressive performance on those calves, he implemented the product in growing yearlings. Feeding only 2.5 lbs. four times a week, Arnold said the cattle have more muscle and frame without being overly fleshy going to grass.
"We just sold them last week and if we wouldn't have weighed them, I would have missed their weight," Arnold said. "They are a lot bigger and harder than they look and did well for us. The thing that has impressed our guys is how well they take to the feed right off and are content on it. I think that's the biggest hurdle for most producers is getting cattle to go on feed quickly."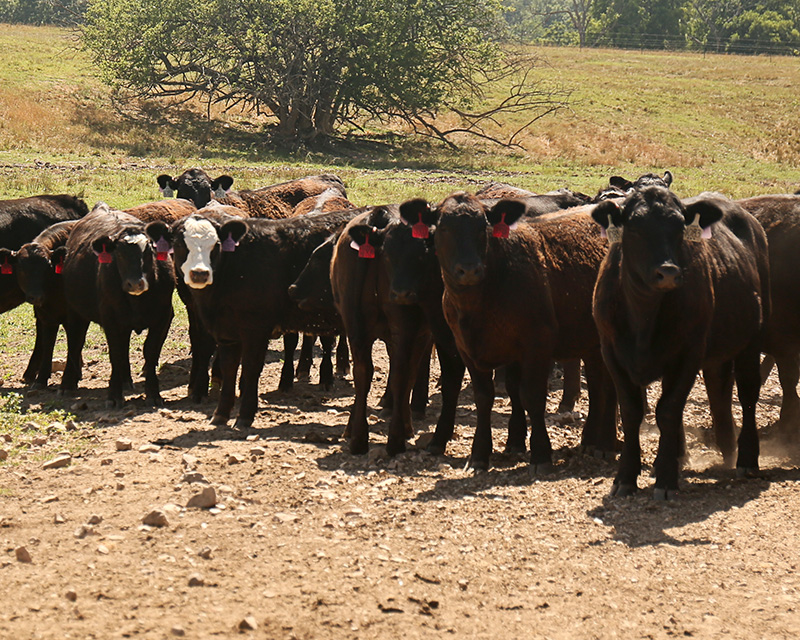 The Moriondo crew is also using distillers grain cubes to grow registered replacement heifers.  The heifers are fed 3 lbs. of cubes 5 days a week.
"They are growing really good," Arnold said. "They have good frames and aren't overly fleshy, which to me is a good thing come breeding time."
With so much success in the other areas of the operation, Arnold is interested to see how the DDG cubes can be implemented in their bull program.  The ranch hosts two bull sales each year, selling more than 200 animals annually.  The bulls are raised and weaned on the farm, then sent to Nebraska for GrowSafe testing.
Arnold says the testing allows them to track feed efficiency, which is a big selling point for their customers.
"With a large amount of our customers being commercial cattlemen, we all need to be looking at the bottom line," Arnold said. "That relative feed efficiency on the bull is 90% transferrable to offspring.  So, whether it's a guy selling his weaned calves showing his customer that these cattle are efficient on feed, or if it's someone feeding them all the way through the yard, that's a huge benefit."
Moriondo bulls are still currently receiving a mixed ration, but Arnold is looking forward to making a change in the future.
"Moving forward I would like to see what those bulls will do on a cube now that we know the efficiency of those animals," Arnold said. "My goal is to see if they perform like our yearlings where we see less flesh and more muscle and frame. At the end of the day, we want a bull that will perform for our customers."