Stockmen around the world have been utilizing distillers grains in livestock rations at an increasing rate for the last twenty years.  The product is easily transported, has a long shelf life and provides a quality source of essential nutrients.  But what exactly IS distillers grain and how is it produced?
Distillers grain is a co-product of the dry-grind fuel ethanol production process. The product consists of the remaining residue of grains used in the ethanol process after fermentation.
"Dried distillers grain (DDG) has become the number one source of protein used in cattle feedlots," said Dusty Turner, owner of MasterHand Milling.  Prior to founding the feed company, Turner's early career was in feedlot management before eventually serving as an executive for a major ethanol production company.
"DDG is rich in protein, fat, minerals and vitamins," he said. "The high energy and protein content make it a very attractive and affordable ingredient for livestock feeds."
The Ethanol Process
Henry Ford and Alexander Graham Bell were on to something when they first discovered they could convert plant sugars into renewable fuel. Today's ethanol industry uses the same concept backed by revolutionary technologies to convert grain, food waste and many other products into ethanol. In the U.S., corn is the most common product used in ethanol production.
There are two types of ethanol plants in the U.S., wet milling and dry milling. Wet milling only makes up about 10% of grain ethanol production, with the majority coming from dry mills.
"The dry milling process initially grinds the grain into meal before adding water and enzymes for fermentation," Turner said.
To begin, grain kernels are ground into a form of flour or meal, then water is added to form a "mash" or "slurry."  The slurry is heated, and enzymes are added to break down starch and convert it to sugar. The slurry is cooled and transferred to fermentation tanks where yeast is added to being converting sugar to alcohol. Once the fermentation process is complete, the resulting alcohol is separated from the grain residue or "stillage."  The alcohol is distilled and dehydrated to produce pure ethanol.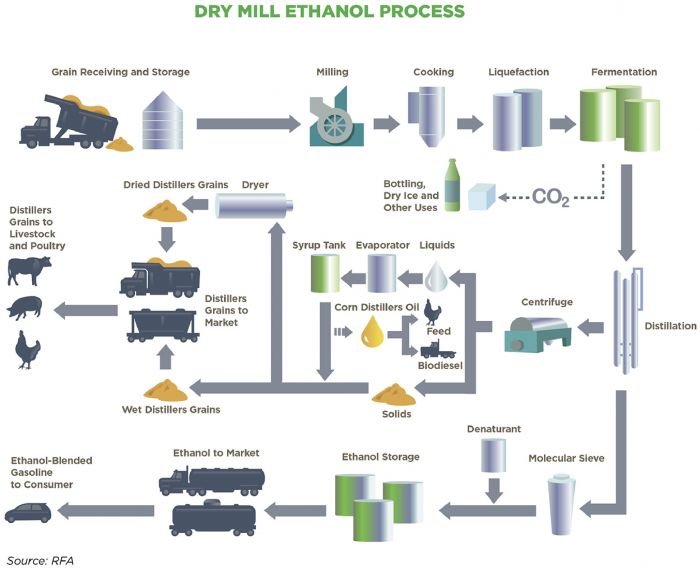 Valuable Co-Products
The stillage is then decanted or centrifuged resulting in a variety of co-products broadly known as distillers grains and corn oil.  While distillers grains can be sold wet to a local market, dried distillers grain is the most common co-product sold by ethanol plants.
"The dried product is only about 10% moisture," Turner said. "Dry DDG has a longer shelf life and is much easier to store and transport."
DDG can be shipped by truck, rail or boat across the country and overseas. On average, the U.S. ethanol industry produces nearly 90,000 tons of distillers grain each week. Some of this production is sold domestically, and a larger portion is exported as DDG.
The ethanol process also produces another primary byproduct — carbon dioxide (CO2).  Carbon dioxide is released by yeast during the fermentation process.  Some plants capture CO2 to be utilized in beverage carbonation, dry ice production or CO2 supplementation for greenhouses.
Benefits of DDG in Cattle Diets
Livestock feed is the primary use for both wet and dry distillers grain. As most of the starch is broken down during the fermentation process, the remaining nutrients are approximately three times more concentrated than the original whole grain and much more digestible.
This rich concentration of protein, fat, minerals and vitamins makes DDG an increasingly popular and proven ingredient in beef cattle diets specifically.  Both wet and dry distillers grains have become a staple in feedlot mixed rations as a cost-effective source of essential nutrients.  More recently, extrusion technology has created an opportunity for ranchers to feed DDG on pasture without the loss and waste of the loose product.
"We've really only begun to see what this extruded product can do for the cattle industry," Turner said. "The results in the cow-calf sector speak for themselves in body conditions scores and breedback rates, as well as reducing pounds fed per day."
Research trials have also shown significant benefits for producers growing cattle in confinement or on pasture.  Recent studies conducted by Oklahoma State University indicated both increased daily gains and improved feedlot and carcass performance on cattle supplemented with DDG during the growing phase.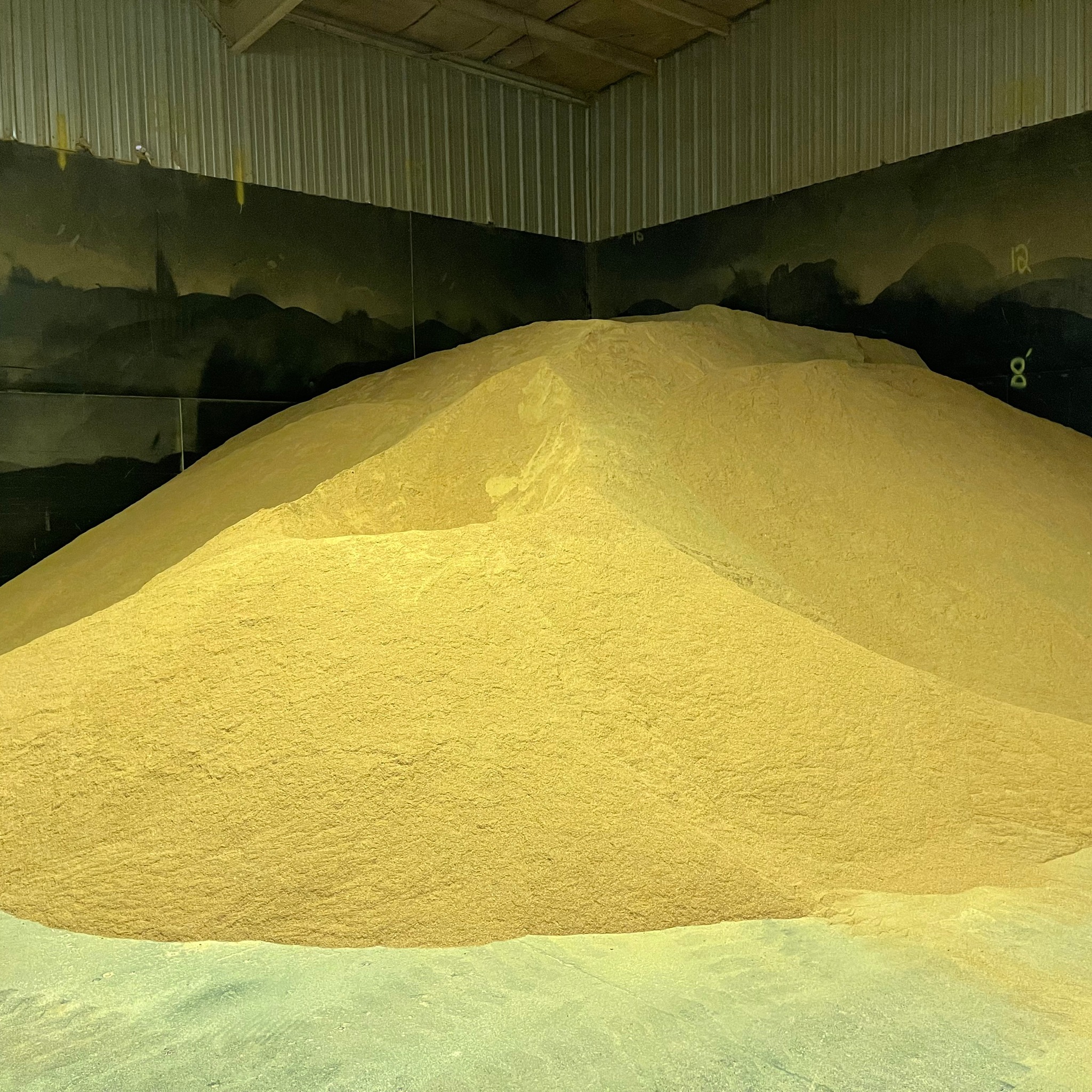 Questions Around DDGs
As a relatively new ingredient in the industry, a lot of questions have been asked around the use of distillers grains in beef cattle diets.  The most common of which is related to sulfur content in rations and the potential risk of toxicity and health concerns. This was a concern in the early years of DDG production but is not really an issue today thanks to the Food Safety Modernization Act (FSMA), Turner said.
"At one time, ethanol plants were using sulfuric acid and antibiotics were used to clean and disinfect," he said. "Residue from those cleaning agents was causing much higher levels of sulfur in the DDGS than is naturally occurring."
The FSMA was enacted in 2011 and prohibited sulfuric acid use as a cleaning agent in plants producing human or animal foods.  On average, DDG naturally contains about 0.6% sulfur, which when added to a forage-based diet should fall well within the tolerance level for beef cattle.
"The main thing when adding any feed supplement is to know what your water and forage are," Turner said. "If you're concerned, just be sure to have both tested and work with a nutritionist on your feed program."
Are DDGs Better For Your Bottomline?
There's no arguing the massive impact distillers grains have had on the cattle industry since the early 2000's.  Nearly every ration, tub and range cube contains the ingredient and with good reason. Both wet and dry distillers grains provide highly concentrated and cost-effective protein and energy that can help improve performance at all stages of beef cattle production.
The trick is finding the form that works for you.  For those located near an ethanol plant, wet cake may be ideal for bunk feeding operations. Needing to boost the energy content of a mixed ration? Loose DDG could be the ticket.  And for those feeding cattle on pasture, extruded DDG cubes are simple and effective.  Talk with a nutritionist or one of our feed experts to build a plan that fits your operation.